Homeowners in Manhattan are no strangers to luxury. From high-end boutiques to five-star restaurants, they have access to the best of the best. When it comes to their homes, they expect nothing less than the finest materials and craftsmanship. Here are nine popular interior design trends seen in Manhattan luxury homes:
Dark wood floors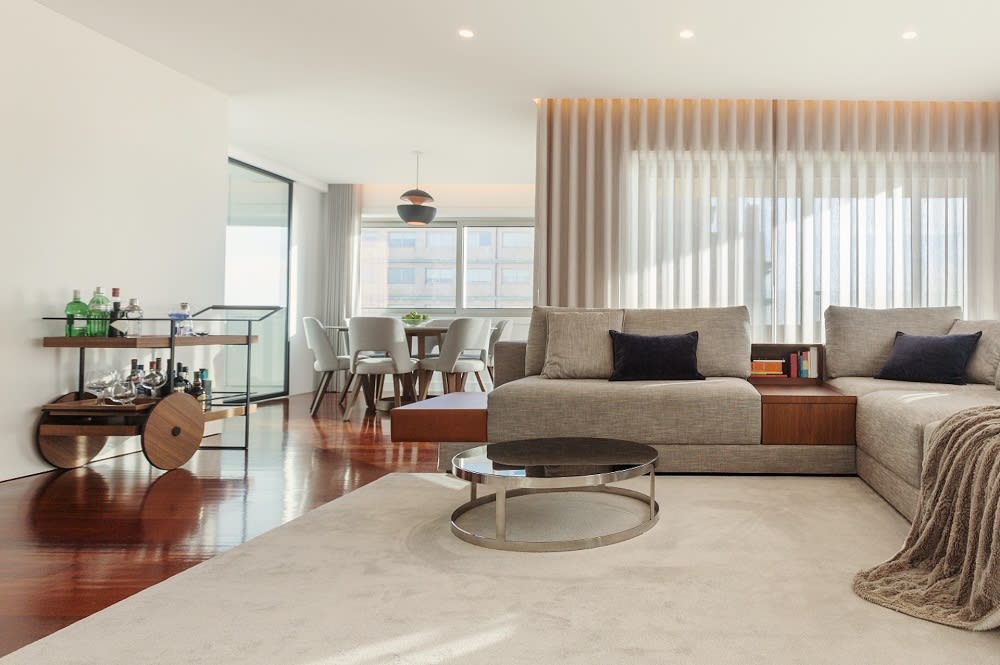 Photo courtesy of Shutterstock
One of the most popular interior design trends in luxury Manhattan homes is dark wood floors. This trend can take many different forms, from rich, chocolate-brown tones to deep, ebony hues. No matter what shade you choose, dark wood floors add instant richness and depth to any space. They are also highly versatile and can complement a wide range of furniture styles and color schemes. If you're looking for a timeless and luxurious feature in your home, dark wood floors are an excellent choice.
Natural materials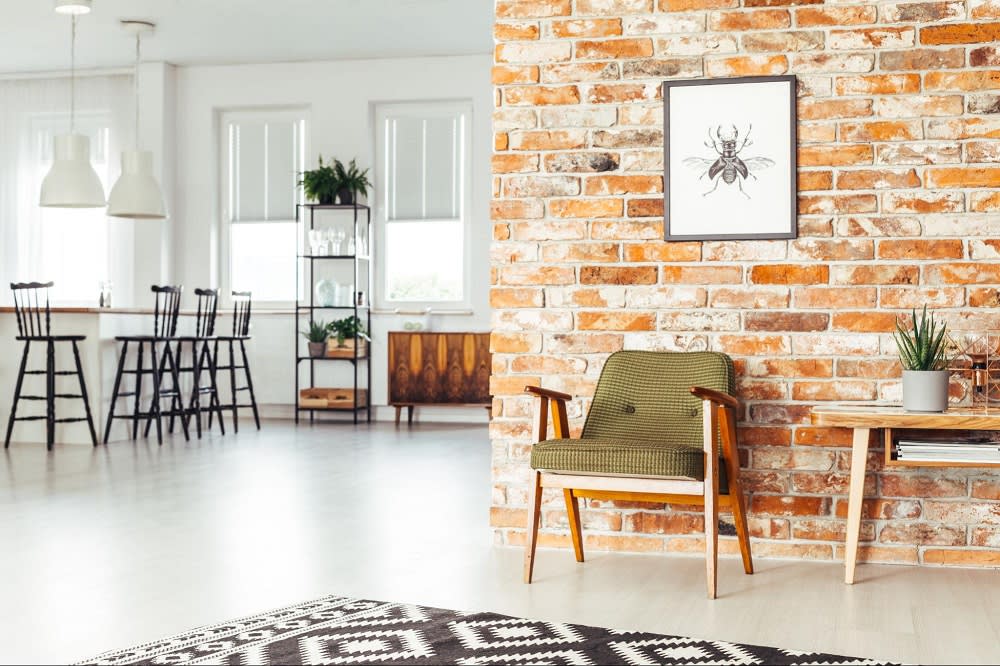 Photo courtesy of Shutterstock
Another popular interior design trend for luxury Manhattan homes is the use of natural materials. This can manifest in many different ways, from using stone or exposed brick walls to create an indoor garden. The goal is to create a space that feels simultaneously cozy and sophisticated; natural materials are the perfect way to achieve this look. In addition to being visually pleasing, natural materials also have the added benefit of promoting a sense of calmness and relaxation. As such, they are an ideal choice for those who want to create a luxurious and serene retreat in the heart of Manhattan.
Neutral colors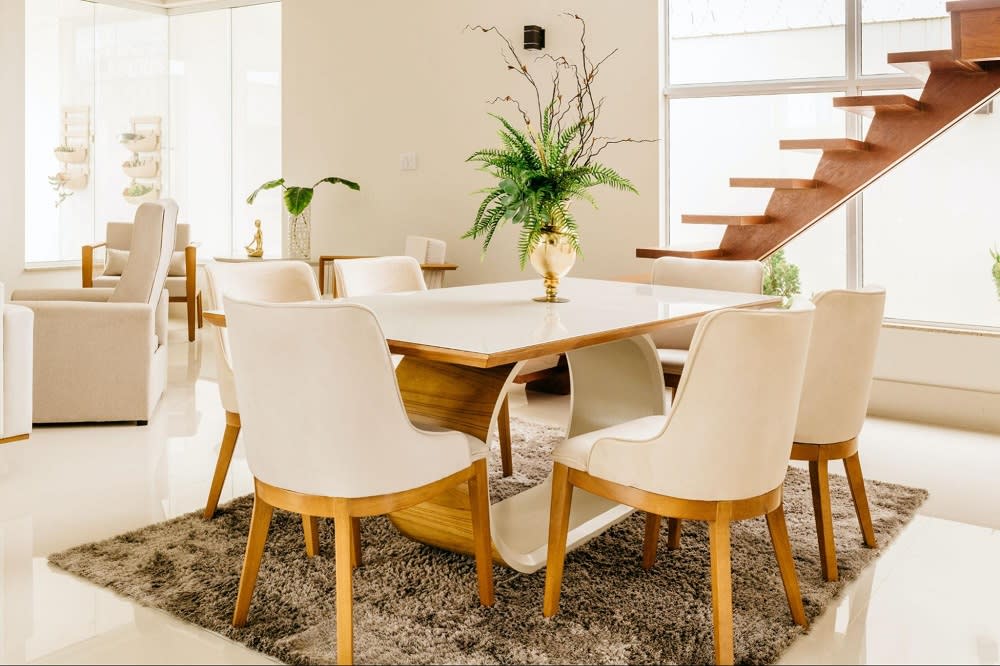 Photo courtesy of Unsplash
In recent years, there has been a shift in interior design trends in luxury
Soho & Tribeca
homes towards more neutral colors. This trend is driven by a desire for a more sophisticated and modern look. Many homeowners are opting for a clean, minimalist aesthetic, and neutral colors help to create this effect. While white is the most popular choice, other neutrals such as black, grey, and beige are also popular. This trend manifests itself in different ways depending on the homeowner's taste. Some opt for an all-white color scheme, while others use pops of color to add interest. Regardless of the approach, neutral colors can be found in many luxury Manhattan homes.
Rounded furniture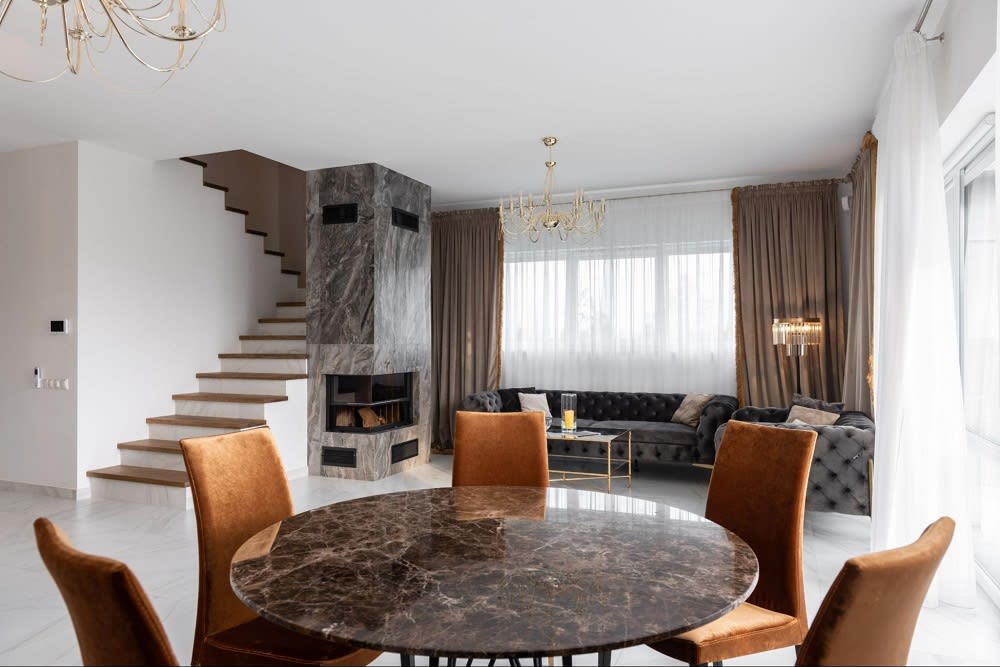 Photo courtesy of Pexels
Rounded furniture has become increasingly popular in luxury Manhattan homes. This trend is often seen in high-end hotels and restaurants and is now making its way into private residences. There are several reasons why rounded furniture is so popular in luxury homes:
It creates a sense of visual balance.

It can make a small space appear larger and more open.

It can lend an air of sophistication to any room.
If you are looking to add a touch of luxury to your home, consider incorporating some rounded furniture into your design.
Soft textures: Chenille upholstery, faux fur throws, and silk curtains

One popular trend among luxury homeowners is soft textures. Chenille upholstery, faux fur throws, and silk curtains have all become popular choices for high-end interiors. Chenille upholstery adds a touch of elegance to any room, while faux fur throws and silk curtains help to create a cozier atmosphere. This trend is particularly popular in bedrooms and living rooms, where homeowners want to relax in comfort. Thanks to these soft textures, luxury Manhattan homes can feel like a warm and inviting oasis amidst the hustle and bustle of the city.
Statement pieces

Many luxury Manhattan homes feature statement pieces in the living areas or other rooms of the house. A statement piece is a piece of furniture or décor that makes a bold visual impact and helps to define the overall style of a space. In a luxury home, statement pieces are often used to create a sense of opulence and sophistication. Common examples of statement pieces in luxury homes include chandeliers, oversized artworks, and dramatic furniture. This trend complements the neutral colors trend, as a statement piece can add intrigue or a bold color to an otherwise minimalist and modern space. By carefully selecting a few key statement pieces, you can transform your home into a luxurious retreat that will impress your guests.
White, glossy kitchens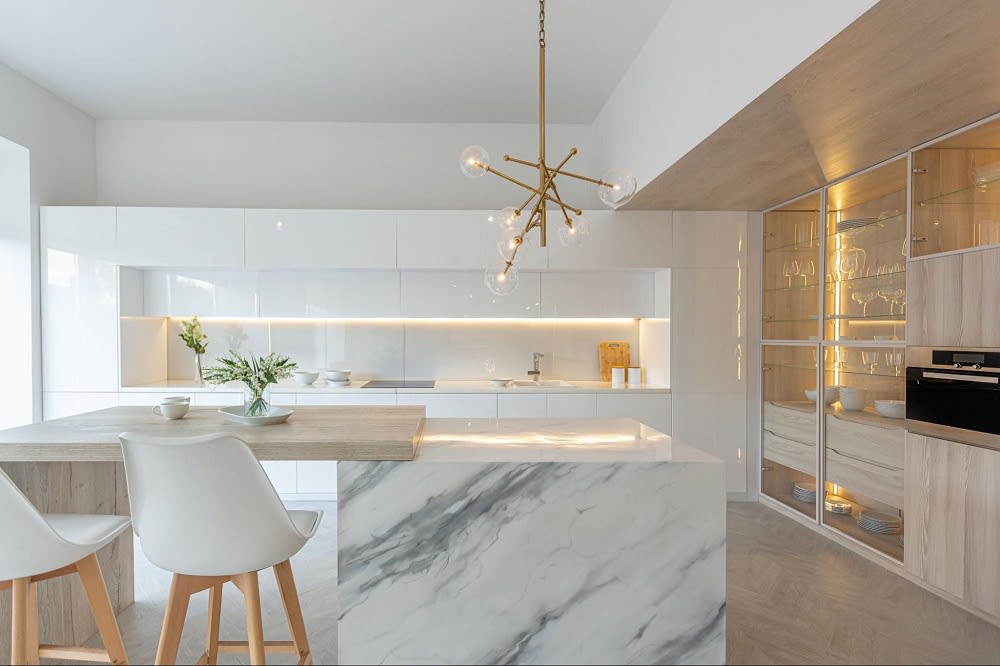 Photo courtesy of Shutterstock
White, glossy kitchens are one of the most popular interior design trends for luxury Manhattan homes. The sleek, clean look of a white kitchen can give your home an upscale feel, and the high-gloss finish is easy to keep clean. If you're looking to add a touch of luxury to your kitchen, consider investing in some high-end finishes like marble countertops or stainless steel appliances. You can also make a statement by adding some unique details, like glass cabinet doors or exposed shelving. Whatever style you choose, a white, glossy kitchen is sure to make your home stand out from the rest.
Locally-sourced furnishing

Another popular trend among luxury Manhattan homeowners is to source materials and furnishings locally. This not only supports the local economy but also helps to ensure that products are of the highest quality. In addition, many luxury Manhattan buyers are looking for homes that have a unique, individualized feel. By sourcing materials locally, homeowners can add a truly personal touch to their homes. For example, a luxury Manhattan buyer might commission a local artist to create a one-of-a-kind piece of art for their home. Or they might work with a local designer to create custom furniture that is perfect for their space. If you're looking to add a touch of luxury to your Manhattan home, consider sourcing materials and furnishings locally.
Clever storage solutions

Luxury Manhattan homes are known for their sophisticated style and clever use of space. One of the most popular trends in luxury home design is clever storage solutions. This trend helps to keep homes organized and clutter-free, while still providing ample storage space for all of your belongings. Some popular storage solutions for luxury homes include hidden storage, built-in cabinets, and stylish shelving:
Hidden storage is a great way to keep your belongings out of sight and out of mind.

Built-in cabinets and shelving provide a sleek and polished look, while still being functional.

Stylish shelving can add a pop of color or personality to any room.
Whatever your style, there is a storage solution that will suit your needs.
Looking to buy or sell a luxury Manhattan home? If so,
Monica Novo
of The NOVO Team would be happy to guide you through the process.
*Header photo courtesy of Shutterstock