In a city like New York, it can be difficult to find a home with ample interior space - let alone exterior space. One of the biggest sacrifices buyers make by moving to the city is losing their beloved private backyards, decks, and patios. If you're looking for an NYC home with outdoor space, you'll likely encounter a few different options. Here are three types of outdoor living areas you'll find in NYC.

A Private Terrace/Balcony

If your terrace or balcony has room for more than just a plant or two, then you've got a great design opportunity on your hands! Too often, terraces and balconies become default storage areas. If you're looking to make a livable area out of these features, you'll be rewarded for your efforts.

Start by figuring out your building's rules and restrictions on outdoor spaces. If you have the go-ahead to modify and make them your own, then you'll most likely want to begin with some lounge furniture. Adirondack chairs create a "summer at the lake" feeling while rocking chairs ooze "drinking sweet tea on the porch" vibes. Depending on your parameters — both physical and financial — you may need to be flexible in your design goals.

Balconies and terraces are also great places to put plants and gardens. Pots and raised beds fit nicely in these smaller spaces and will add a healthy feel to your outdoor space. Just make sure to know how much sun your area gets, so you can successfully care for your new plants. Also consider planting tall grasses, to obscure certain views and create a more private atmosphere.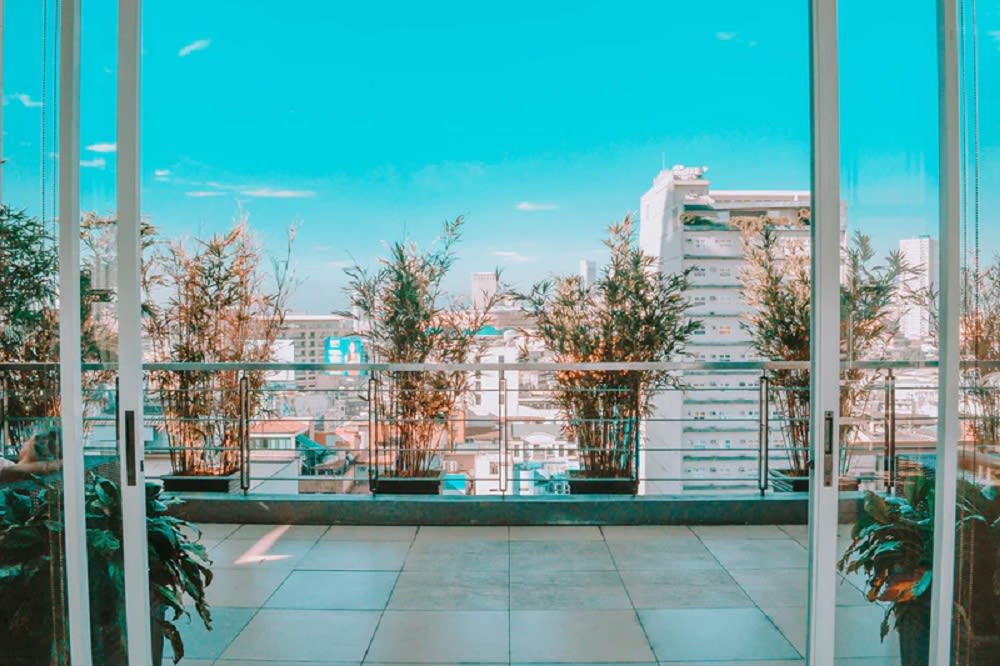 A Backyard

If you're lucky enough to have a backyard — even a small one — in NYC, then you should definitely make the most of it. If your yard can grow natural grass, invest in maintaining it. If you want less maintenance, you could always replace it with turf, or a stone bottom. Both look very put-together and will establish your yard as a usable environment.

Next, choose your design style. Powder-coated aluminum and wicker are popular furniture materials, as they can withstand a variety of elements. You'll also want to find weather-durable fabrics and cushions. The New York Times recommends Sunbrella and Perennials as brands worth considering.

How do you intend to use your backyard? If you have many uses in mind, divide your space into distinct areas. For instance, you might have a vegetable garden in one area, a reading hammock in another, and then a space for entertaining. Or, if you have kids, consider designating a play area with a basketball hoop. An outdoor sectional sofa is a nice way to tie it all together. You can lounge on it, or use it as seating when dining.

Unless your backyard is already private, you'll probably want to maximize privacy by building terrace walls, or by planting tall hedges and grasses. Even if you can only privatize one section of your space, you'll feel more comfortable and contained.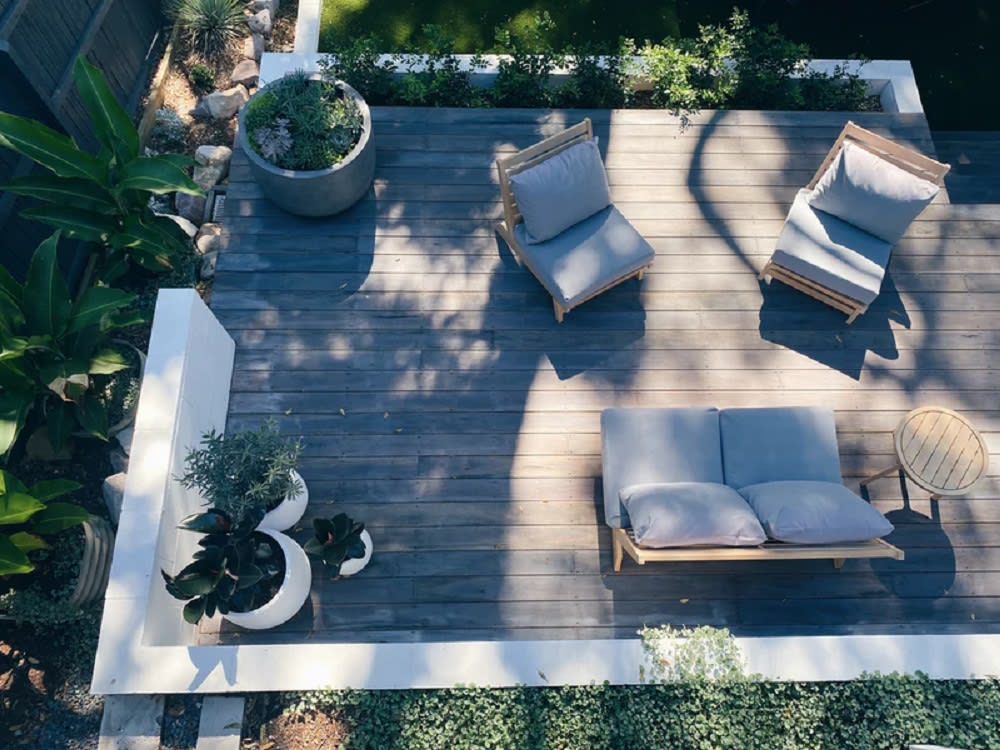 A Rooftop

Rooftops are all about the view! Downplay areas where you want privacy and showcase areas where you want to see the skyline. Planters are a great way to do this - experiment with heights, colors, and textures. Plant tall grasses where you want privacy, and low-lying flowers where you want views. These additions will provide nice green touches, which emphasize being outdoors and simulate being in nature.

A rooftop is also ideal for entertaining. Depending on your rooftop's size, consider creating different areas for dining versus relaxing. Benches alongside planters provide extra seating, and are nice spots to share cocktails with friends. Outdoor sofas are another comfortable gathering option. Enjoy appetizers off of a wicker table while you sip wine on your sectional. You can also opt for some lounge chairs, to soak up the sun during the day.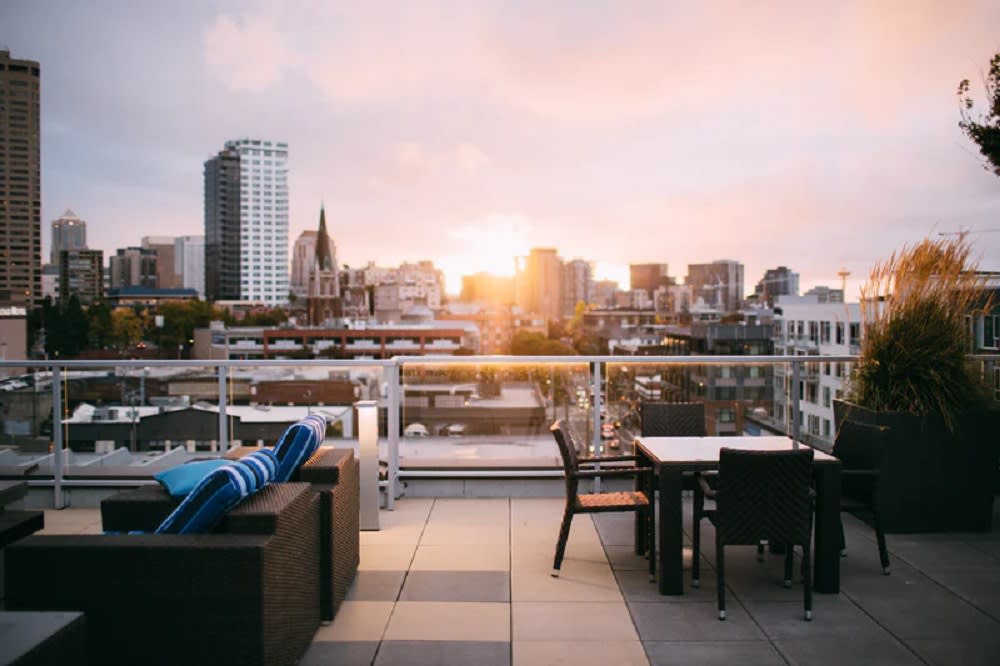 When it comes to creating an "elevated dining experience," you may choose to go very upscale. A wooden dining table and chairs invite guests to sit and enjoy. An outdoor kitchen — even a small one — is convenient, impressive, and less expensive than one might think. Just install a grill and some countertops, which can also double as a bar. If you don't have room for a full bar, a nice bar cart will do.

When it comes to your rooftop's flooring (or even your large patio, for that matter,) you don't have to settle for concrete. There are so many options that will enhance your design, like turf, tile, or stone. An outdoor rug will increase coziness and make your outside space the spot where everyone wants to gather.

If your rooftop or patio is large and super luxurious, you may be able to experiment with hot tubs, fire pits, and fireplaces. These elements have become increasingly popular over the last year, as outdoor entertaining has become a key way to socialize during the pandemic.

Regardless of whatever outdoor space you have, it's important to remember that lighting is key! You want to get the most out of your oasis, which means using it both day and night. LED, low-voltage lights will create a hospitable ambiance. You could also experiment with lanterns and string lights, to add a pinch of fun!

Looking for properties with outdoor spaces in NYC? Contact The Novo Team for the most luxurious options.